There may be some information you don't want to post publicly on your school website, but you do want to make it available to your users.. Document storage allows you to upload files and associate them with a user account, group of users or an aircraft.
You can upload files such as PDFs, images and other documents. They attach to people, aircraft or a shared area.
To get started, first turn on the feature in Admin > Document storage.
You will see some tabs where you can define which types of document you want to store. For users, you might want to store a copy of their Signed agreements or Membership form.
User documents appear in a Documents tab in the user's account.
Users you have allowed to log in can view the documents you have stored in their account page, plus any shared documents you have made available to groups of people.
Shared documents are a special case where you can also pick groups of people. Upload and manage your shared documents from the People > Documents tab. You might want to use this area for documents such as Club rules, Airside rules, and Membership forms for download.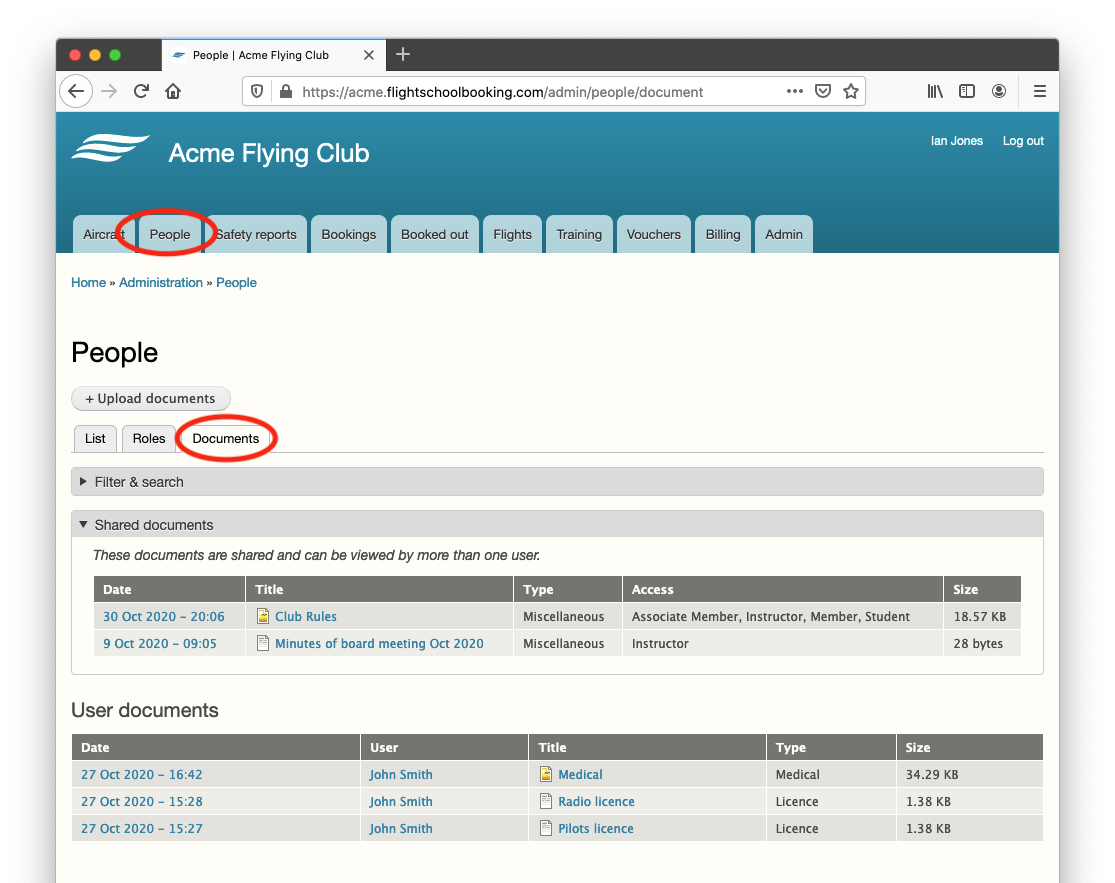 You can even upload from your phone, so for example if you need to add a temporary membership form to someone's account, you can tap Upload and choose the camera.
Aircraft documents
For aircraft, you could consider uploading its insurance, permit, certificate of registration, radio licence, checklist and handbook. This makes the documentation available to pilots and students. Should they be asked to produce it, they can simply log in and view the documents on their phone screen.
Aircraft documents work a similar way to user documents, they appear on each aircraft's Documents tab and everyone with access to the aircraft can view them.

Security & privacy
Users can view documents linked to their own account or to any aircraft, but nobody else's. Instructors, office staff and the owner can view, edit and delete any document.
When you upload a new document into a user's account, it is stored for an additional 2 years 6 months after activity stops for that user. That means once the user stops making bookings, flying or receiving invoices, the system respects the general principals of GDPR and automatically deletes the associated documents, which may help your own compliance. The period chosen satisfies the CAA requirement to maintain training records for two years, allowing students to transfer schools.
You can also find new Documents tabs under Aircraft and People. These list all documents and of course you can search using the filter.