We're really pleased with how this feature turned out!
If your school sell logbooks, training books or your own merchandise, you can now set up a short list of products in the billing system. For each product, you choose what gets transferred to a customer invoice, the price, tax code and accounts code (if you use them). Doing this setup once makes it a lot quicker to sell products and means your instructors and office staff can avoid worrying about using the wrong tax code or price.
You'll find the new Shop tab under Admin > Billing.
All your products appear in a drop-down list when invoicing a customer. You choose the order you want these to appear in the dropdown by dragging them in the admin screen. The new invoice screen looks like this: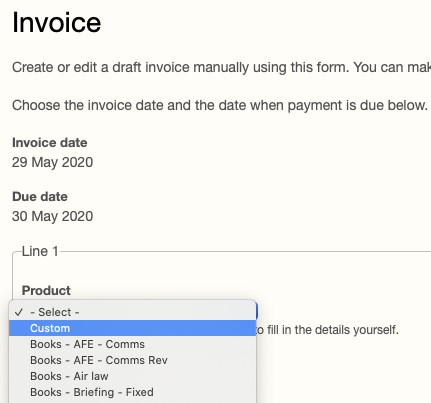 You can of course pick Custom and fill in the invoice fields manually, which will be useful unless you have every product you could ever possibly sell defined!
Picking a product from the list fills in the price, description, tax and accounts codes. The description and quantity fields are editable, so it's possible to define a product that has options and just type the extra information in the description manually if you like. As an example, you could define a single "Exam Fee" product and when invoicing, add to the description to show which exam the student paid for.