User Guide
User Guide
This user guide gives brief information about the booking system and is primarily aimed at students and members. Flight school owners and instructors may also find the Owners manual useful.
The guide is divided into sections, which you should find in the links on the left (or below).
If you have never used the system before, we suggest reading the Getting started page.
Otherwise, use the navigation links to find the section you need help on.
Mathew Waters
Mon, 18/04/2016 - 10:44
Getting started
Getting started
The booking system allows all students, members, instructors, engineers and office staff to sign in and perform different tasks. Users are assigned different 'roles' withing the booking system which enables or disables options as necessary. As an example, only users with the 'engineer' role are able to create service log entries for aircraft.
As the most likely case is that you are a student or member, the rest of this guide will focus on how you will use it. Where options exist for different roles, this will be highlighted.
How to get started (videos)
We will often refer to clicking a link. Tapping a link is equivalent and we may use the terms interchangably. The link text is shown bold in the guide, for example, "Look for the Log in link at the top of the page".
Your instructor or the club owner may have already set up your username but will not have set your password. Assuming this has happened, you have an account ready for you. The first thing to do is to set your own password.
Setting a new password
The usual password rules apply! Try to choose a long password, avoid using well known words from the dictionary and add some numbers and puctuation characters. Don't just add 123 to the end!
You won't need to use it often because the site will remember you between visits unless you choose to log out. If you do forget you can reset your password again using the link on the log in page.
To set your password, visit the booking system's log in page using your browser. You should have been given the address to use in the address bar by your administrator. It looks something like this:
acme.flightschoolbooking.com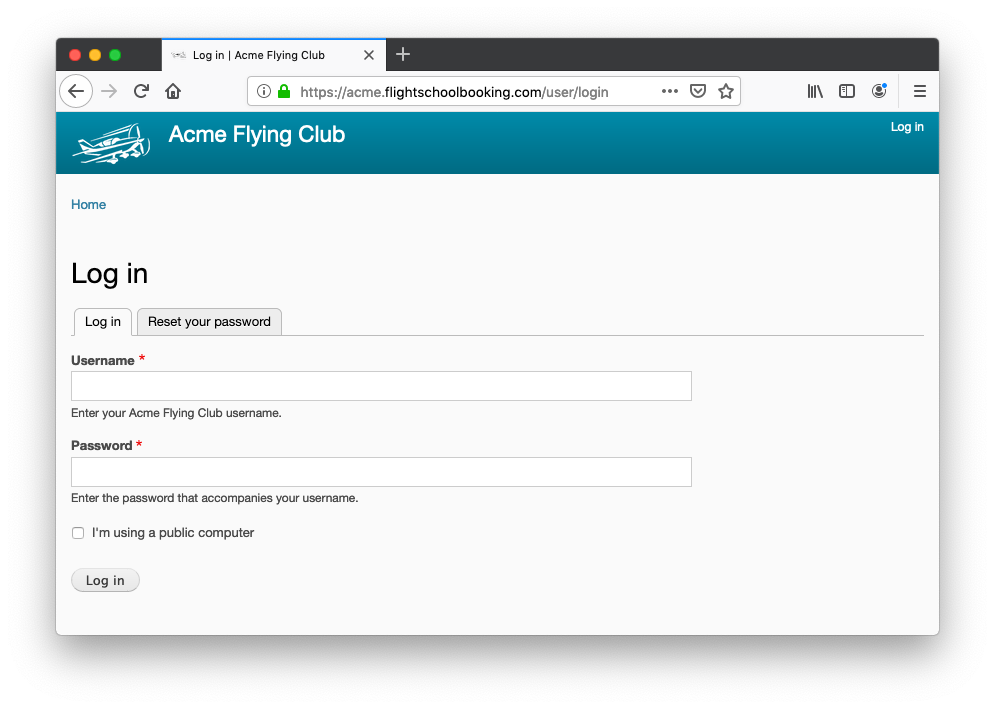 Normally you will log in using this page, but if this is your first time using the system, you will need to retrieve your account first.
To retrieve your account, click Reset your password and fill in either your full name or your email address. The usual format for usernames in the system is <first name> <last name>, for example "Amelia Earhart". If your user name is not recognised or you do not receive an email shortly after, try again with your email address instead. Failing this, contact the office for help. Office staff can search the full list of users and correct any spelling mistakes or set your current email address!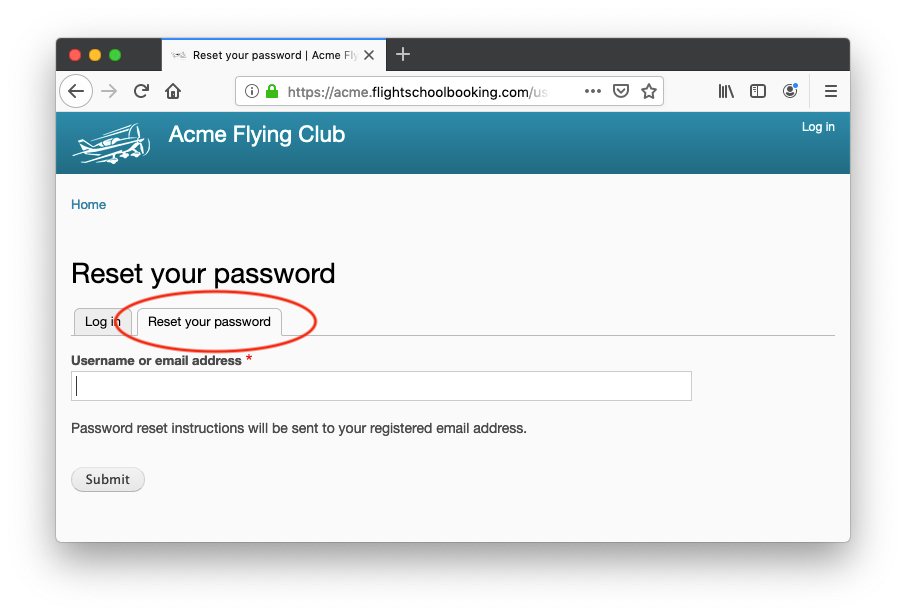 All being well, you should receive an email with a link to log in. Click the link or paste it into your browser. Links expire after 24 hours.
Set up your details
When you log in, you should find a form with your information. You can use this to set your password. Just type it in the two boxes provided. Please also check this form for accuracy. The following fields are worth mentioning in more detail:
Personal contact form. Are you are willing for your name to be shown to other users in the booking system and to receive email via the system from other members? If so, check this option. Otherwise, leave the option un-checked to remain anonymous. Note: instructors, office staff, club owner(s) and the site administrator can view and edit your account information, including your email address and name.
Address & phone numbers. These are visible only to instructors, office staff, the club owner and site administrator. They provide a very quick way for instructors to get in touch with you straght from their booking screen. This is most useful when booking have to be cancelled at short notice due to weather because your instructor can tap your phone number to call you.
Next of kin details. Most clubs require this information. You can keep this information updated as necessary.
Previous experience. This information may help your instructor tailor lessons to you and is especially useful if you fly with a new instructor who doesn't know you.
Comments. This field is used by office staff to record things like licence numbers and any other information.
Notifications. The system is able to send notification messages such as booking confirmations and reminders linked to membership, medical certificates and so on. Currently all notifications are sent by email, but this may be extended to text message in the future.
When you have checked all your details, click Save to update your account.
Mathew Waters
Mon, 18/04/2016 - 10:46
Account summary
Account summary
To reach this page, click on your name displayed at the top of the screen next to the Log out link. The Account page provides shortcuts to your bookings, flights, logbook, training notes and invoices. In addition, you can change your account preferences using the Settings tab.
Each page in the system uses a standardised layout for consistency: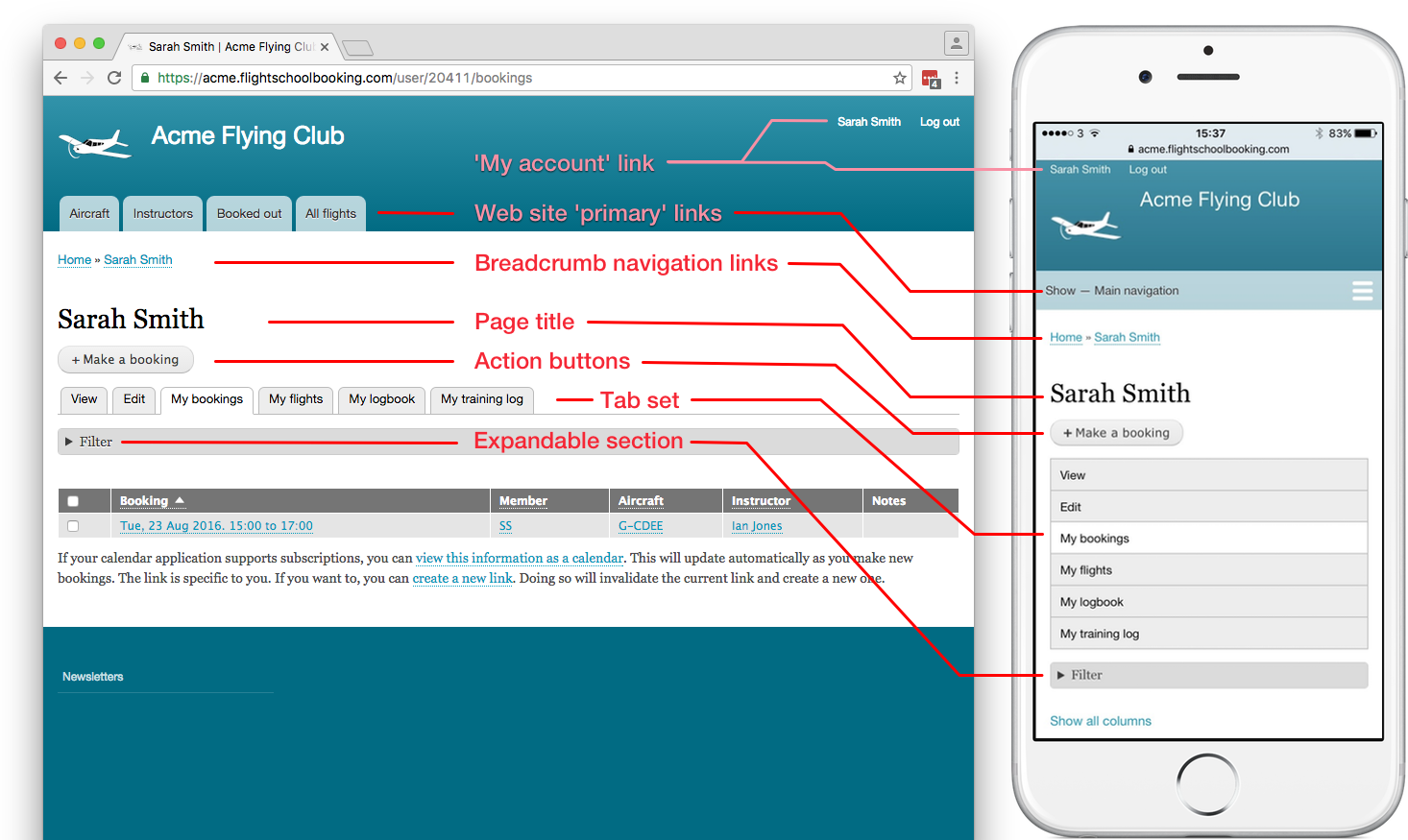 Account link. This link provides quick access to everything linked to your account. In the tabs shown in your account you should find your bookings, flight history, logbook and training notes.
Web site primary links. The system can be extended into a fully integrated web site and booking system. This area can be used for web site primary navigation, such as 'Contact Us' and so on.
Breadcrumb navigation links. This area provides shortcut links to navigate to related pages. For example, from within a single booking it provides a method to navigate up to the list of bookings.
Page title.
Action buttons. Some pages contain actions, such as + Make a booking. Action buttons usually appear under the page title.
Tabs. Some pages make use of a tab set. These group pages that relate to one item, whether a person, booking, flight and so on.
Expanding sections. Thsese are used to group rarely used settings or other items.
Note the tabs under your username. As a student or member these provide access to the main features of the system:
Summary
The summary always tries to give you your next step. For example, if you have a booking in the next few hours it will show the booking and allow you book out the flight. Likewise, if you're booked out, it will help you book in.
Settings
User settings, such as your password, email and home address. Some of this information can only be updated by the school office.
Documents
The office may use this tab to store documents such as copies of your licence, medical and signed agreements.
Bookings
This tab shows all your future bookings.
Logbook
Your logbook records all your past flights with the school, but you can also keep it updated with any flights you have at other schools. For example, if you fly while away on holiday you may wish to add this flight to your logbook.
Training
View you flight training and ground school records. When these are updated by an instructor, you will receive an email notification (unless you've chosen not to under Settings).
Bills & payments
This tab shows a history of all invoices and payments received from you by the school. You can use this tab to pay invoices or to make a pre-payment into your flying account.
Your Summary tab tries to give you the most relevant information to help avoid having to navigate manually. For example, if you have no bookings in the system, it will provide a link to make a new booking. Or if you have a booking and it's around the current time, it will show the option to book out the flight. And if you're booked out on a flight, it provides a quick way to book in your flight details. To start with, your instructor might do all this for you, but depending on the school, you may be responsible for booking out and booking back in.
To reach the summary tab again in the future, click the Account link shown at the top of the page or (if not already logged in) Log in.
As a member, you can now move on to check any existing bookings you have or make a new booking.
Mathew Waters
Tue, 12/07/2016 - 12:56
Booking
Booking
Members can quickly and easily book either an aircraft or instructor (or usually both). The system keeps track of all the bookings and will of course prevent double-bookings.
Everyone can view a list of their upcoming bookings, both in list form on the site and as a calendar. Calendars are published by the system using the webcal specification and can be viewed in mobile devices, Outlook and so on. They are updated automatically as more bookings are made, so provide a handy way of viewing bookings as they come up. See Upcoming bookings for more details.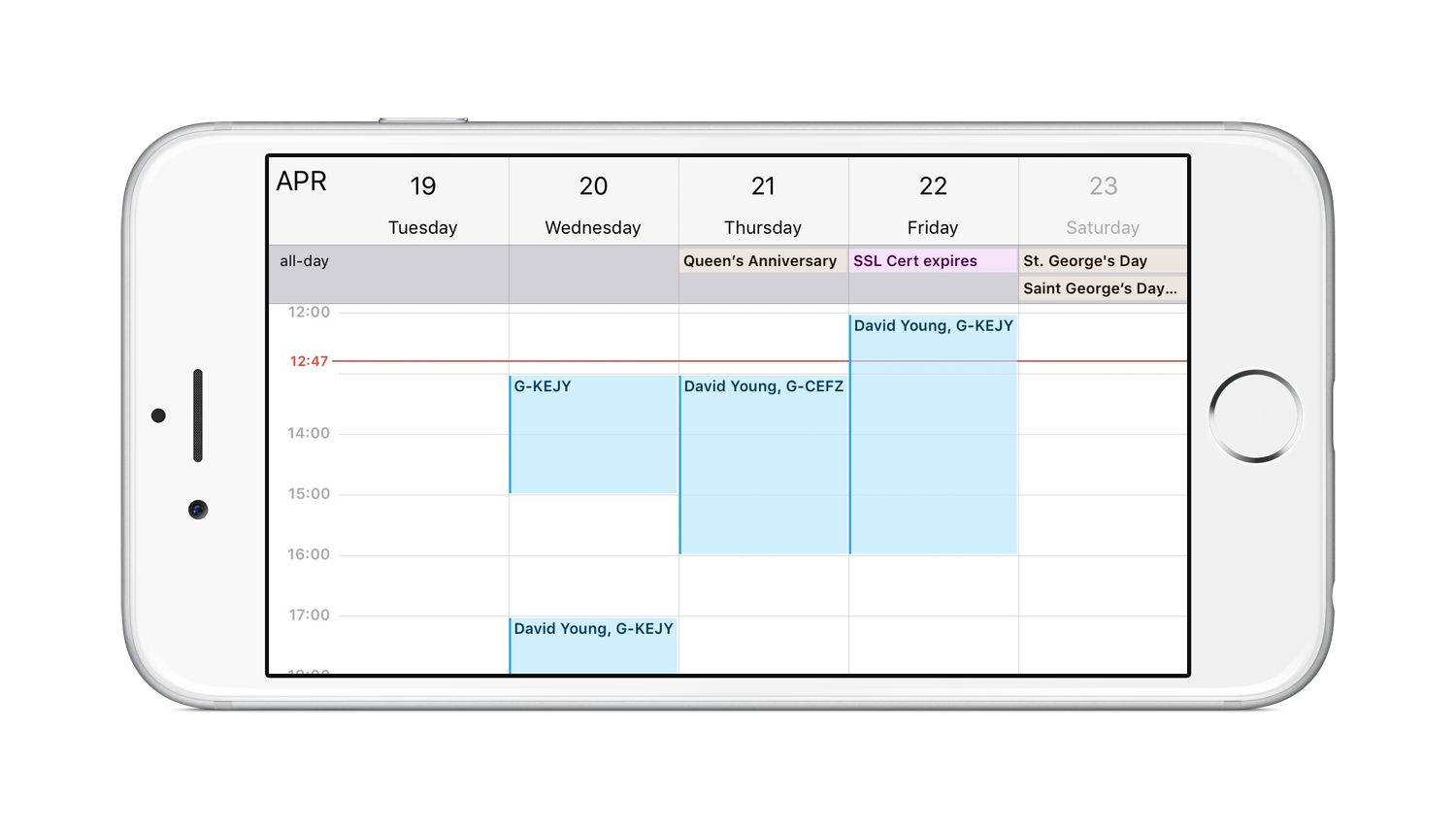 Members will typically book time slots in advance, then arrive a short time before the start of the booking. They will then book out the aircraft direct from the booking page. When members return from their flights, the system links everything together, from initial booking through to aircraft technical logs, training log and the member and instructor electronic log books.
Mathew Waters
Mon, 18/04/2016 - 11:05
Booking out
Booking out
Booking out is recommended and should be done as close as possible to the time of departure.
To book out, find your booking and follow the link to the booking details page. Normally it's easy because if you only have one booking your Summary tab will show it and the button to book out.
How to book out (video)

Click + Book out and enter the details. The form looks complicated, but much of it is likely to be filled out already and should just need checking. If you forget to book out, simply click the Add flight button when you return from the flight instead.
Date and time. Estimate the start time of the flight. The date is pre-filled with today's date and the time is rounded to the next 5 minutes.
ETA Return. Choose whether you are returning the same day or a later date then set the time you are due to return.
Aircraft. This is usually pre-filled from your booking and cannot be changed.
Did you add fuel from the store? If you add any fuel, record the amount in Litres. If not, choose No.
Pilot. If you have booked an instructor, they will appear as PIC. Otherwise, select the name of pilot either from the radio buttons or choose Other and type their username.
Student. If you have booked an instructor, you will most likely appear as student. If this is incorrect, choose the student name or select None.
POB. Persons on board.
Destination. If landing away, click Other and type the destination.
Set P1 Out. Place a checkmark in this box to mark the flight as started. Effectively the pilot is taking responsibility for the flight at this point until flight details are entered and you set "P1 In".
Notes. You can record any notes you like here, such as your planned routing. These will be shown on the Booked Out screen.
When all details are checked, click Book out to complete the booking out process. The system displays the Booked Out Details page showing a summary of the details just entered. Then go and have fun flying!
When returning from a flight, remember to book back in. The system will email a reminder to whoever created the booking out entry, whether pilot or student. To book in, return to the Booked Out Details page.
Mathew Waters
Mon, 18/04/2016 - 15:22
Booked out details
Booked out details
After you have booked out, you will see this page to confirm the booked out details. This page is is used to add flight details and book back in after you return from flying.
If you need to reach this page again, you can do so from the original booking or from the Booked out page.
Editing the entry
If there is a mistake in the booking out record, you can edit and re-save. To do this, click the Edit tab. It is possible to edit the record until flights have added. After that, the movement is locked and cannot be changed unless the linked flights are deleted.
How to delete (can do this if not P1 Out)
Deleting the entry
Normally there is no need to delete a movement, you can instead enter an "aborted flight". However, if the flight was booked out by mistake or cancelled while on the way to the aircraft you may wish to delete the movement completely.
To do this, click the Delete tab. It is possible to delete a movement if P1 Out has not been set. Therefore you might first need to Edit the record to un-check P1 Out.
Adding flight details
If the flight is booked out with P1 Out, you can add flight details by clicking + Add flight details as shown below.

Note: It isn't possible to tick P1 In on this screen. Instead you should always book back in by completing flight details.
There may be more than one flight associated with the booking out record. If so, they can all be added one at a time. Each time you return to this page, the previous flights are appended to a list. You can click + Add another flight to add further flights to the record.
Each flight contains an option to close the booking out record. When the details for the last flight are entered this option should be used to book back in. This sets P1 In and prevents the flights and the booking out record from being changed or deleted. You will notice the tabs on this page disappear altogether.
For information about how to complete the flight details, see Entering flight details.
Mathew Waters
Mon, 18/04/2016 - 18:46
Booked out page
Booked out page
The 'Booked out' page shows all booked aircraft currently booked out. To open the page, click the Booked out tab shown in the primary links (main navigation) area.
The list is useful if...
You arrive for your booking and find the aircraft has not returned. The list shows who last booked the aircraft out, the destination, number on board and their ETA Return (estimated time of return).
You booked out, returned from flying and need to enter flight details. Clicking the entry under the time column displays the Booked out details screen.
You want to check to see if any flights have been left booked out by mistake. Members should enter flight details in order to "book back in". If this step is forgotten, the aircraft will appear as booked out. Instructors may use this screen to make sure all flights are recorded. The system will also send a reminder to whoever booked the flight out a short time after the ETA Return.
By default the page shows aircraft that have been booked out and have not returned. But it is possible to filter the list to show all aircraft movements, movements for a particular aircraft and movements between certain dates.
Mathew Waters
Mon, 18/04/2016 - 15:24
Aircraft log
Aircraft log
The aircraft log records details about each flight. But as well as flights it also records other types of information. The following types of entry can be recorded in the aircraft technical log:
Flight. Records the flight's start and finish times and the engine hour meter readings.
Aborted flight. If the engine is started but the flight is aborted, record the engine hours.
Notes. Members can add notes to the aircraft log, for example to record when daily inspections were completed.
Airframe service. An engineer will record airframe service information, detailing the work carried out and when the next service is due.
Engine service. An engineer will record engine service information, detailing the work carried out and when the next service is due.
Annual inspection. When an annual inspecion of the aircraft is carried out, details of any faults found are detailed in the notes.
The technical log is visible in the following places:
Each aircraft's Log tab.
All flights tab (primary links).
Each member's My flights tab.
Viewing the log for an aircraft
To view the technical log for an aircraft, you can either find the aircraft in the public list via the Aircraft tab and click the Log tab, or you can click All flights and filter the list by aircraft. You can also filter the list by date and by the type of entry.
When the list is filtered by aircraft, an expandable section appears marked Maintenance. This contains details of the last service and when the next service is due. If a service is overdue, the rows are highlighted to draw attention to them.
To find out when the last annual inspection was carried out, use the Filter section to select the aircraft, then choose 'Annual inspection' for the Type of entry. Click the Filter button to update the page with the new filter.
Viewing your own flights
To view flights you have made, click Account followed by My flights. The list shows flights and aborted flights linked to your username.
Exporting information
The records shown can be exported in CSV format, simply click the button below the list marked Download CSV.
Adding an entry to the aircraft log
Some options such as servicing and annual inspections are restricted to engineers and office staff. But as a member you can add notes to an aircraft log, which may be useful if you want to record when you carried out a daily inspection or found/fixed an issue relating to the aircraft.
To add a note, find the aircraft via the Aircraft tab in the main navigation tab set. Then click Log to display the log for that aircraft. The action buttons appear on this page. Click + Add a note to add a note.
To add flight details, first find the booking out record. This page contains a button marked + Add flight details.
Mathew Waters
Tue, 19/04/2016 - 14:03
Entering flights
Entering flights
When you have returned from a flight, you should record details of every flight separately. To do this, find the booking out record and click + Add flight details.
Entering flight details (video)
The "New Log Details" form appears. This form is pre-filled with information gathered from the booking out record and from previous flights to save time and is broken into sections.
Basic information
Type of entry. If the flight did not take place, select 'Aborted flight'. An aborted flight does not include airframe time, landings but can record some engine time.
Date and Time. Set the date and time noted as the start of the flight.
Departure. This is usually pre-filled as your home airfield. Commonly entered locations appear as radio-buttons for quick selection, but if the location is not listed, choose Other and type the name of the location. As you type the system should suggest locations to help but you can ignore them and type a new location.
Arrival. As above, the arrival is usually pre-filled based on what was entered in the booking out form.
Engine
If the aircraft is fitted with an engine hour meter, the engine hours fields are displayed on the form. Otherwise, you should only set the time the flight ended. When no engine hour meter is fitted, the run time is taken as the same as the flight duration.
Engine hours at start. Check the engine hours reading at the start of the flight matches the predicted value shown in the form. If it does not, this indicates an error in previous entry or a previous flight returned but the details were not entered into the log. The value is taken from the aircraft's hours meter.
Engine hours after shut down. When the engine is stopped, record the value shown on the aircraft's hour meter. When you move off this field, the finish time of the flight should be calculated and filled in for you.
Flight ended at. Set the time at which the flight was finished.
Airframe
Number of landings. Each flight will have at least one landing. If there was no landing, change the type of entry to 'Aborted flight'.
Airframe duration. This is usually filled in for you based on the flight duration and the setting for 'default taxiing time'. However, if the network connection to the service is poor this may not happen and the time should be manually entered. In either case, check the duration for accuracy.
Training
Was this a training flight? If so, choose 'yes'. Doing so creates a blank training record for the instructor to complete. If your flight was not an instructional flight, choose 'no'.
Adding safety reports or notes in the aircraft log
Add notes if there was anything unusual to report about the flight. Do not record non-important detail because this can clutter the technical log, making it hard to pick out any potential issues.
For anything that affects safety of future flights, record these as a safety report. These are things like hard landings, unusual engine noises etc.
As a regular user, the process is now complete! If there is still time left in your booking, you can cancel the remaining time, making it available to others.
The flight or flights will now appear in the aircraft log pages. If it was a training flight, the instructor will log in to the system themselves and complete the training notes. You can view your training notes from the Training tab.
Saving a flight also creates an entry in your personal logbook. This can be edited if you wish. You might like to add your own notes about the flight. However, note that the notes field is updated if a linked training record is saved. If the flight was not part of a training exercise, you can use the notes as you wish.
Mathew Waters
Tue, 19/04/2016 - 14:11
Entering notes
Entering notes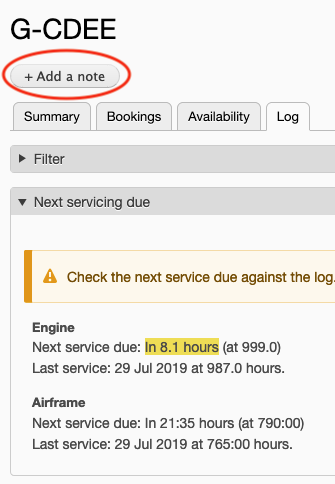 Sometimes you may wish to add a note to the aircraft log. To do this, find the aircraft listed on the Aircraft tab of the main navigation area and click the image or aircraft registration. You can also reach the aircraft log page by clicking the registration shown in an existing booking, flight or other pages in the system. When viewing an aircraft page, you will notice the tabs View, Availability, and Log shown under the page title. To add a note you must first be viewing the Log tab.
Click + Add a note.
The "Add Note" form appears. The time and date is set to the current time and should not normally need to be changed unless you want to record a note at a specific time in the past.
Add notes as necessary. Anything you write is visible to other members viewing the aircraft log.
Mathew Waters
Thu, 21/04/2016 - 12:58
Personal logbook
Personal logbook
Each member can maintain their own electronic logbook. Every flight booked in is automatically added to member logbooks. Members can edit existing information and can add new entries if they wish. If members fly with different schools that do not operate the system they can still add entries to keep their electronic logbook up to date.
This feature is useful as it can provide a backup of the member's paper logbook, which could be useful in the event the logbook is lost.
To view your logbook, click Logbook in your account page.
When flying under instructor supervision, the instructor will complete training notes soon after the flight. This process will update the affected logbook entry, setting the Pilot Operating Capacity field and updating the notes with the exercises covered in training.
Time columns
Most of the logbook fields are self-explanatory as they match the format of existing paper logbooks. But there are two time based columns by default, used to record time as PIC and Dual.
Members are not limited to two columns though, they can create new ones as necessary. This is done when entering a new logbook record - see Adding a new entry. This feature allows unused columns to remain hidden to declutter the table while allowing members to add columns such as Co-Pilot or Instructor time to their logbook.
Exporting logbook information
The records shown can be exported in CSV format, simply click the button below the list marked Download CSV.
Adding a logbook entry
When you or your instructor adds flights to the system, your logbook is automatically updated with the details. Of course this doesn't happen if you fly with another club that doesn't run the same booking system. In this case, you can add a new logbook entry manually.
If you already have many hours recorded in your paper logbook that you would like added to the system, we recommend entering a summary line instead of every last entry to save time. Just add a logbook entry with the total number of hours on each type. This will be entered as one record into your logbook and may be useful when viewing your logbook summary showing the total number of hours flown and on which type of aircraft.
Mathew Waters
Tue, 19/04/2016 - 16:59
Adding a new entry
Adding a new entry
First open the logbook screen by clicking Logbook in your account page. This page lists all the entries in your logbook.
To add a new logbook entry, click the + Add entry button. To edit an existing entry, click the entry shown under the Date column.
The form is organised into sections as follows.
Aircraft
Registration. Type the aircraft registration. As you type the app suggests registrations from your previous entries.
Type. Set the aircraft type. This is completed for you if your logbook already contains the same registration.
Departure
Place. Places you have entered many times before are available for quick selection. But if the location is not listed, choose Other and type the name.
Date and Time. Set the date and time of the start of the flight. Usually this is when the engine was started or "brakes off".
Arrival
Place. As for departures, places you have already entered are shown for quick selection. If the destination is not listed, choose Other and type the name.
Time. Set the time the flight ended. Usually this is the time the engine was stopped or "brakes on".
Pilot
Holder's operating capacity. Select your operating capacity for the flight. Usually this is PUT for a training flight, or P1 if you were pilot in command.
PIC name. If you were pilot in command this field is filled in for you as "SELF". Otherwise, type the name of the pilot in command.
Landings
Day. If your landings were carried out in the day choose Day and type the number of landings in the box that appears.
Night. If any landings were carried out in night conditions, choose Night and type the number of landings at night.
Times
The times section is used to record flight time and is flexible in that you can record time as PIC, Dual or create a new time recorder. Instructors will normally record time under PIC and "Instructor". Using this method means unused columns are not displayed on the main logbook list, which helps to declutter the table. But it also allows greater flexibility because a new time recorder can easily be created. This can be used to create columns for pilot function time and condition time.
Which logbook columns are you entering time for? To record time under an existing column, select the column by placing a checkmark in the appropriate column name. If the column is not listed, choose Other and see later for instructions about how to define a new time recorder.
PIC / Dual Time. Each time recorder behaves the same way. It has a shortcut option to simply record the total flight time in that column. Since this is the typical case, you will usually choose Equal to the flight time. However, if you need to split the flight time, choose Other and type the duration for that time recorder under Time.
Create new time recorder(s). If you chose to create a new time recorder in your logbook, this field will appear. You can create more than one time recorder at once. Just type the name of the column, followed by the equal sign, followed by the time in hours:minutes. For example, to create a new column for recording instructor time, use the following as an example:
    Instructor = 0:55
This records 55 minutes of instructor time.
You can edit anything in your logbook without affecting any previously entered flight details: the information is not used by the flight school and is yours to use as you wish.
Mathew Waters
Tue, 19/04/2016 - 19:34
Training log
Training log
The system maintains a training log for all users in the system. The way you would use the training log differs depending on whether you are under instruction, or whether you are the instructor.
Viewing your own training notes
If your flight school or club uses the system to record training notes, you will find a read-only copy of them linked to your account.
To view your own training notes, click your Training tab.
Training records are listed with the most recent first. On a device with a wide screen all columns are usually displayed, but on smaller screen devices only the most important columns are shown. To view a specific training record, click the date and time shown under the Start time column.
If any rows are highlighted, these are incomplete entries. Your instructor should complete the record, setting the correct operating capacity, exercises completed and should add comments as necessary. Reminders are sent to instructors at the end of the day if there are any incomplete entries.
A summary section may be displayed. If it is, you can expand it to reveal details of hours spent under instruction on each type of aircraft and each operating capacity.
You can also export the training log in CSV format if you wish. To do this, click the Download CSV button shown at the bottom of the list.
Using the training notes system as an instructor
When recording training notes, these are either directly linked to a flight, or added manually as "ground school" notes. It is not possible to add flight notes without first entering flight details. Each flight can generate a training record, depending on the selections made when saving the flight. When a flight is saved, a blank - incomplete - training record is created automatically and linked to both instructor and student.
To complete the training notes for a flight, it is easiest to click Training in the main primary links area. This presents a list of all training notes and is only available to instructors. From this page you can filter by date, filter by member or filter to show incomplete entries only.
Therefore, to complete adding training notes relating to a flight, find the training entry by setting the filter to show incomplete entries. These are highlighted when initially created to make them easier to find. Depending on the number of subsequent flights you may find the training record is visible on the page without needing to set a filter.
Another useful method is to view your own Training tab, and set the filter to show records where you are the instructor. This will show any incomplete entries you need to fill in.
Simply click on the date and time shown under the Start time column to start editing a training record.
To add a "ground school" record, click the + Add ground school button from a student's account page.
Mathew Waters
Tue, 19/04/2016 - 16:57
Adding a new entry
Adding a new entry
Note: Only instructors should add training records. Students can view their record in their Training tab.
You may have already arrived at this page via a reminder sent to you if there are incomplete training records. In this case the page will show just the entries that need attention. All the incomplete records are displayed, including those for other instructors to fill in. Be careful to find the correct record in the list, and click on the date and time shown in the Start time column.
You can also reach this screen by clicking Training in the main navigation area.
Either click on the date and time shown in the Start time column to fill in training information for a flight, or click + Add ground school. Adding a ground school training record is similar to adding a flight training record except you must complete the start and finish time and choose the student.
Clicking a record that has already been completed will display the summary page for the entry. The standard View, Edit and Delete tabs allow the record to be edited or deleted. It is possible to delete training notes, although this should be rarely - if ever - used. Usually the Edit tab will be used to correct a previous entry.
Clicking a record that is incomplete (a highlighted row) will take you directly to the Edit page.
Filling in the training record is quite self-explanatory. The flight details are displayed for reference and the following fields are displayed:
Student. The student will already be selected based on the information entered in the booking out form. If this is incorrect it indicates an earlier error that ought to be corrected. For ground school records, type the name of the student.
Operating capacity. Choose under which capacity the student was operating the flight. Usually this is PUT (Pilot under Training).
Instructor. The instructor will already be selected in most cases, but if you are entering notes on behalf of another instructor, select the instructor conducting the flight.
Exercises. This field is free text, but we suggest noting the exercise numbers covered in training in a consistent way.
Notes. This field is also free text and should be completed with details on how well the exercises were completed, any issues that were identified during the flight and some guidence on what to expect to cover in the next lesson. This last point will help both the student and another instructor reviewing the student's notes.
When the form is complete, click Save to save the record. The summary screen showing the training log entered is usually displayed after for review.
Note: When a training record linked to a flight is saved, the associated logbooks of both instructor and student are updated.
Mathew Waters
Tue, 19/04/2016 - 19:36
Safety reporting
Safety reporting
You should report any issue that you think might affect safety, or has already caused an incident or accident.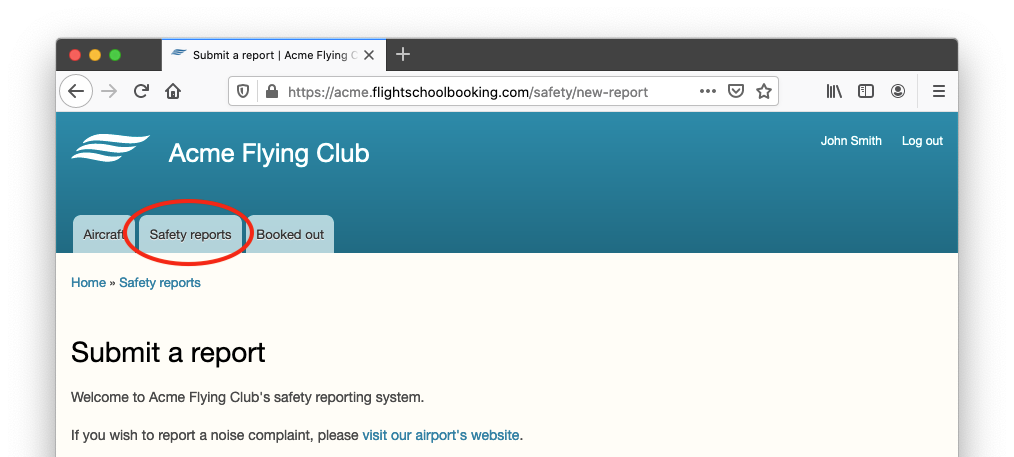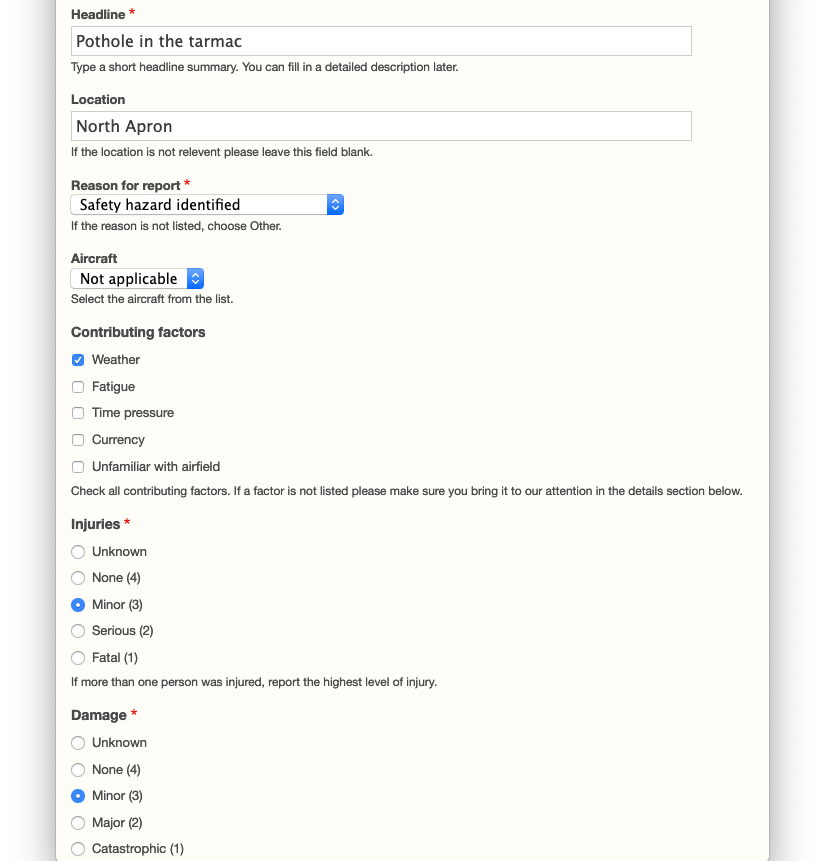 A safety report collects the following information:
Your name and email address (or you can choose to report anonymously)
Date and time
Title and full details
Location
Reason for the report
Aircraft and phase of flight
Contributing factors
Injuries, Damage
Frequency or likelihood of occurrence
Suggested action(s)
If you already booked out and the report concerns your flight, this should be reported when you book in the flight. Even if the flight is recorded as "aborted", you should add your safety report at this stage. This links the safety report with previously entered information right from the initial booking to booking out and the flight itself.
All other reports should be made from the Safety reports tab at the top of the page. For example, you may discover an issue while checking the aircraft before a flight. In that case, you would select the aircraft when filling in the report. This links the report to the aircraft and it will appear in the aircraft's Safety tab.
Depending on how your school has set the reporting feature to work, you may be able to submit reports directly, making them available to students and members. Doing so may help someone else.
Any safety reports that you have access to view are shown in the Safety reports tab as well as the Safety tab for each aircraft. You should consult these to see if there are any relevant reports before you book out.
Mathew Waters
Mon, 28/09/2020 - 21:06
Document storage
Document storage
In your account you might find a tab labelled Documents. If this is available in your system, it displays a list of documents your school has uploaded into your account.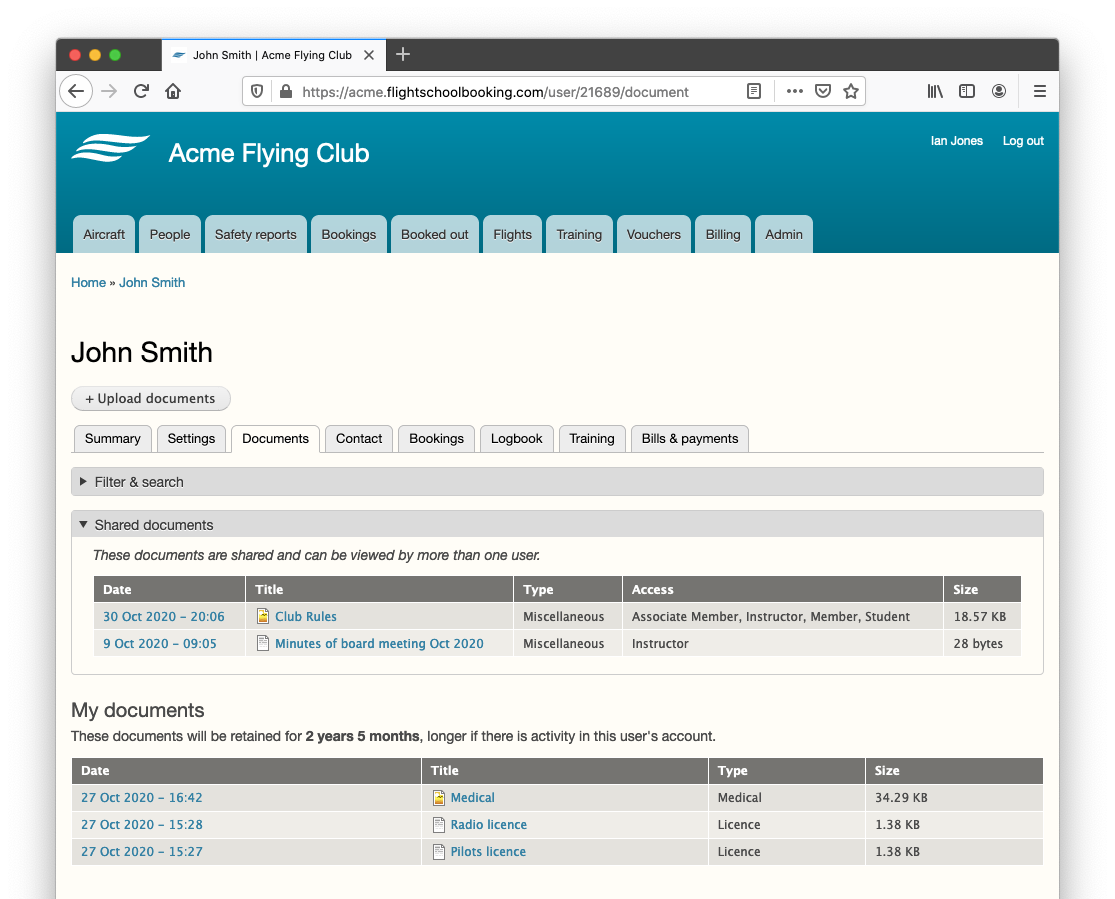 These can be used by the school to make forms or scanned copies of paper documents available to you.
For example:
School Rules
Airside / Airport Rules
... and so on.
You will also find a Documents tab on each aircraft. The school may use this to store the following:
Pilot Operating Handbooks (POH) for the aircraft
Checklists
Certificate of Registration
Certificate of Insurance
Permit to Fly
Radio Licence
Mathew Waters
Fri, 03/01/2020 - 16:43
Bills & payments
Bills & payments
Your Bills & payments tab shows the financial history in your flying account. This is an optional feature in the booking system that your flight school owner can enable for everyone in the school, or for some users only.
Bills & payments (video)
When the billing system is turned on, it allows you to see instantly your balance and all the invoices and payments you have made to the school for aircraft hire, flight training, ground school and any regular payments such as membership fees. It also allows the school to sell products such as knee boards, charts and headsets and add these to an invoice in your account manually. The intention behind the billing system was to reduce the administration time involved in creating invoices, accounting for them and keeping track of people not paying or paying late. But it also makes paying for flying much easier on you as the customer.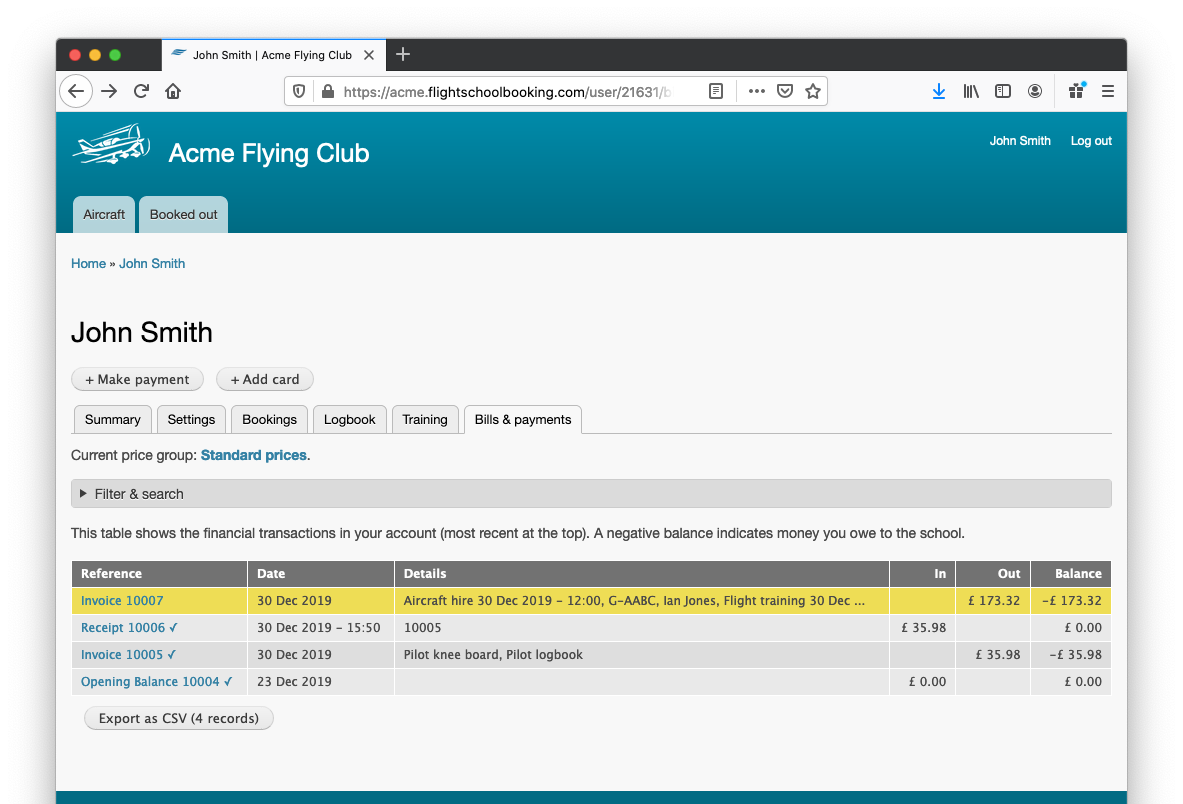 You can either pre-pay a suggested sum into your account and check back on this tab to view the balance remaining, or you can leave the system with your card details and it will try to take payment automatically on the due date of the invoice.
Transactions
Each transaction moves money into or out of your account. Just like a bank account, your balance is a positive number when you pay money into your flying account. If the balance is negative this means you owe money to the school, just like being overdrawn means you owe money back to the bank.
The list updates with the most recently added transaction shown at the top of the list. This is normally the most recently dated transaction, but this is not necessarily the case. By adding transactions in the order they were created instead of dated, it is not possible to insert transactions into the past history of your account to affect your balance.
Some lines may appear highlighted in yellow or red. Yellow shows an invoice that is not yet paid, and red is used to highlight invoices that are overdue.
Small ticks next to the transaction show whether the invoice has been fully paid, or if the credit (etc) has been fully used up paying other invoices.
Opening balance. If your school has been using a different system until now, you may have an account balance already. Either you owe money to the school or you have a pre-paid balance remaining. This billing system does not have details about old transactions and if you're unsure about whether the figure is correct, contact your school administrator to ask for a statement.
Invoice. Invoices contain an itemised list of your purchases and show the tax paid if applicable. The billing system will create invoices automatically from flights, flight training, ground school and any regular fees. Instructors and office staff can also manually create invoices and add these to your account.
Credit note. A credit note can be added to apply a discount to your account, or to correct a previously paid invoice. Credits can only be added by office staff.
Receipt. When you pay money into your account using the system, these show as receipts.
Refund. Office staff can issue refunds from one of your recent receipts. Refunds for payments made more than 90 days ago should be handled directly with the school and an adjustment added to your account to represent the refund (see next).
Adjustment. An adjustment represents a cash or card transaction that did not go via the billing system. For example, if you pay cash at the school to cover an invoice, or make a bank transfer to the school bank account, the school should add this as a manual adjustment to keep your account updated.
Viewing an invoice
To view and pay an invoice, click the reference in the first column. Invoices scale for display on mobile devices, but you might find it best to view them landscape if you're viewing an invoice on a phone screen.
Paying an invoice
You can pay individual invoices or make a payment into your account from your account page. See Making payments for more details.
Mathew Waters
Mon, 30/12/2019 - 11:48
Price groups
Price groups
The school may have different packages they offer, perhaps with different hourly rates. The billing system accommodates this using "price groups". The price group defines all the prices you could pay for aircraft hire, flight training and so on. At the top of your Bills & payments tab you should see your current price group shown as a link. Click this link to view the individual prices, which can be set by the school down to each aircraft and each instructor. As an example, the "Standard prices" are shown below:

You cannot switch between price groups yourself, but someone with the office or owner role can do this for you.
Mathew Waters
Fri, 03/01/2020 - 16:58
Making payments
Making payments
You can make a payment by credit or debit card by clicking or tapping the Pay Now button shown on an invoice. Alternatively, use the Make payment button at the top of the Bills & payments tab.

When payments are collected, the system suggests a few options. If there are any invoices that are past their due date, the system requires at least this amount. Many schools operate on the basis that you will make top-up payments into your flying account and can set their own suggested top-up amount. If this is the case, you can choose this option or choose another amount.
On the next screen you can enter your card number, expiry date and CVC number on the back of the card. If you make top-up payments you might prefer to make all your payments manually like this. But if you usually have a zero or negative balance, and want to pay invoices after they have been issued. In that case, you may be able to have the system remember your card for next time to save you entering the numbers each time. By storing your card details*, payments will be collected on the due date and not before. You will still receive invoices by email to review, and can leave the system to collect payment later.
* A note about how card details are stored
Neither your flight school or Flight School Booking store any card details. That might sound like an unusual thing to say right after talking about a setting that remembers your card details but read on!
Behind the scenes, Flight School Booking uses a payment platform called Stripe.
Stripe was founded in 2010. We chose this company to handle payments because of their low fees, which keeps the cost to the school down and also their attention to detail, support and quality of their API. Stripe collect the card payments and transfer the amount after their fee direct to the school bank account. Stripe is now one of the most highly valued startups in the world at roughly $35 billion and process hundreds of billions of dollars each year (September 2019).
They have been audited by a PCI-certified auditor and certified to PCI Service Provider Level 1. This is the most stringent level of certification available in the payments industry and allows them to process card payments and to securely store details for future charges on the same card.
Because of the elegant way the Stripe API has been designed, no payment information ever passes through our servers. It is instead sent direct from your browser to Stripe, and behind the scenes we obtain a "token" which represents your school's use of your card. If you choose the option to remember your card details, the token is linked to your account in the billing system.
If you chose to store your card and later want to change the card being used, just click Update card shown above your Bills & payments tab. You can remove the card or replace it with another one. If you have stored card details and your card expires, you will be able to update your card this way.
Mathew Waters
Fri, 03/01/2020 - 17:01